---
---
---
---
Tucked away in Derbyshire is a small studio-workshop in which unique original designs emanate.
malcolm david smith
Studio & Attic Gallery,
29 Market Place, Cromford, Matlock, Derbyshire DE4 3RE
Tel 0792 545 0876
email, mdschairs@gmail.com
The Attic Gallery.
The range is constantly evolving, always something new to see.
The Studio & Attic Gallery is set back about 20 metres from the road.
Enter Cromford Market Place (from the A6) you will see the Greyhound Hotel, look for the larger fish & chip restaurant and bus stop. The Studio & Attic Gallery is up the drive to the right of the restaurant.
Visiting the area and would like a list of arts & crafts along the Derwent Valley ?
See the Derwent Valley Arts Crawl, link towards the bottom of the page.
---
There is NO mail order service.
Seating needs to be tried for height, angles and support. The character of the wood needs to be seen and touched.
Visitors are welcome.
Before making a special journey it is advisable to check the details below.
Studio and Attic Gallery Opening Times.
OPEN Thurs, Fri, Sat & Sun 10am to 4.00pm
CLOSED Mon, Tues & Weds.
..........................................
Events Confirmed so far, 2018.
Closed Friday 12th., 
Oct Sat 13th & Sun 14th Great Peak District Fair, The Octagon, Pavilion Gardens, Buxton SK17 6BE. See Pavilion Gardens link.
LINKS are further down the page.
---
Each piece is designed and hand made by malcolm david smith.
The designs continually evolve and develop.
Seating that just might be alive.
There is no complete catalogue.
Below are some designs giving a flavour of the current range.
..........................................
The timber used is Liriodendron Tulipifera, (flowers the shape of tulips) part of the Magnoliaceae family.
Tulip Tree.
---
A new design the Skuttle stool. Simple to fold, with locking legs. 
---
All designed and hand made by malcolm david smith.
---
All designed and handmade by malcolm david smith.
---
businesspeakdistrict.com Peak District promotional organisation.
thebsg.org.uk Information on British Stickmakers Guild & events.
craftanddesign.net Information on all aspects of the Arts & Crafts Scene.
celebratingcromford.org Details of the annual Cromford activities.
derwentvalleyartcrawl.co.uk A website and a brochure of artists and craftspeople in the derwent valley 
derbyshire.gov.uk/countryside Details of Woodland Festival at Elvaston Castle, and much more.
derbyshireopenarts.co.uk Open studios over the late May bank holiday.
paviliongardens.co.uk Events at the Pavilion Gardens, Buxton.
scarthinbooks.com New, secondhand books & tearoom. One of many highlights of Cromford.
---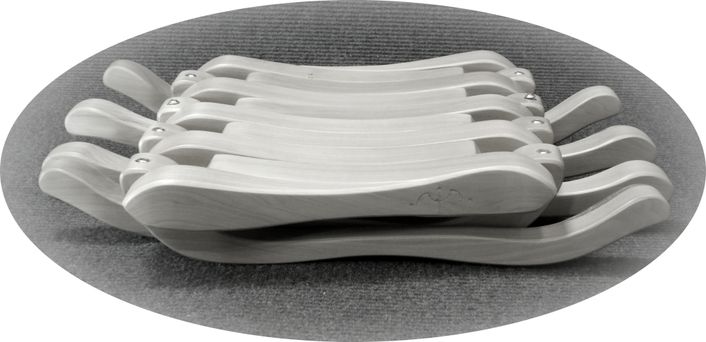 ---
background
malcolm gained a B.Ed honours in Design & Technology at Shoreditch College.
Achieved the Shoreditch Society Award for Outstanding Design & Craftsmanship in Wood.
artisan chairs since 1989
---
all designs & seating images 
© malcolm david smith
---